Dumpling is a kind of traditional food that people eat when it is in spring festival. Chinese people call it "Jiao-zi". They often make it in Even of the Chinese New Year. It is very delicious.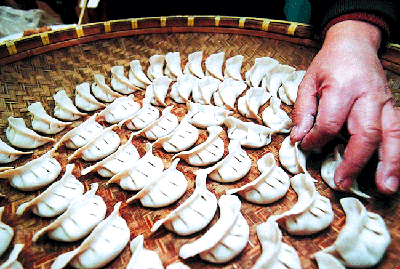 To make it, I think, it is easy and has lot of fun.
First you should prepare some wheat flour, meat and vegetables. Second mash the meat into small parts and then mix the meat and vegetables that is the filling. Put some water in the wheat flour, mix them together. Knead dough into a roundish mass. Cut them into small parts and make them like a round cake that is the surface of the dumpling. Then you can put the filling inside the round cake, and make the cake closed.
People usually make it all the night, and eat them on the second day.
Why people spend such a long time to make it? Because they want to wait for the New Year and hearing the sound of the tolling bell.