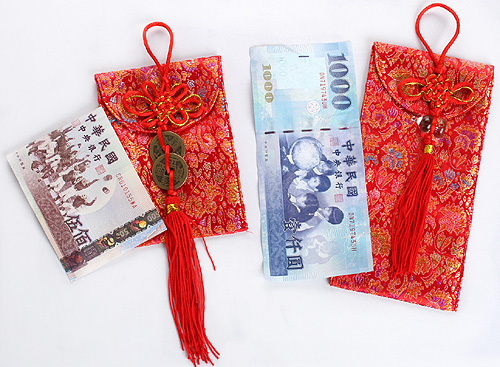 Red packets are every child's delight at Chinese New Year! The tradition of giving gifts in Chinese culture is not as practised in European or "western" culture. By and large the giving of gifts is restricted to giving money. Small gifts are given when visiting a home of a friend, and increasingly for weddings, but traditionally money is given.
The way in which this is done in the West would be by putting money in a card, or indeed, giving a gift voucher. The Chinese give money inside red envelopes which are decorated with lucky symbols or Chinese characters. These are known as 'Lai Si' or 'Hung Bao'.
At Chinese New Year these are given by married couples to children/unmarried people. The red is used as the most auspicious colour, while the decoration may have a blessing or good wish. The symbolic giving of the money represents a wish for fortune and wealth in the coming year. The money may also be used to pay off debt, thus allowing a financial clean slate in the new year.