The first direct cargo charter flight from Taiwan touched down in Shanghai early Thursday morning, marking a breakthrough in cross-Strait relations since 1949.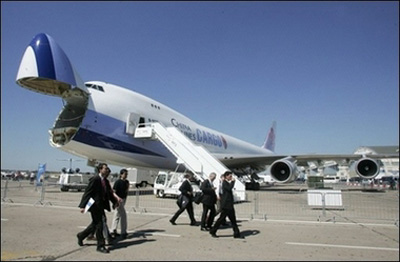 A Boeing 747, such as this one, with an undisclosed freight shipment is set to take off in the first direct chartered cargo flight between Taiwan and the Chinese mainland. [AFP]
A Boeing 747-400 from China Airlines, Taiwan's largest air carrier, landed in Pudong International Airport at 0:33 a.m. Thursday after just over two hours and 10 minutes, bringing 61 tons of chip equipment to a factory established by a Taiwan company.
"The non-stop cargo flight is a step forward in connections between Taiwan and the mainland," said Chen Luyi, vice president with Shanghai-based Taiwanese Businessmen Association.
A brief welcoming ceremony was held at the Pudong airport, with a banner reading "warmly welcome the first cargo flight of China Airlines".
More than 30 domestic and foreign reporters were gathering at the airport to record the historical moment.
The CI 6901 chartered flight departed Taipei at around 22:20 p.m. Wednesday.
Four more chartered flights will continue to ship equipment for Taiwan Semiconductor Manufacturing Co. Ltd (TSMC) to build its 8-inch chip plant in this eastern Chinese metropolis.
The last plane is scheduled to arrive here on August 10.
The initiative is considered an active move to cut down transportation cost and save time for Taiwanese firms because all cargo charter flights do not need to land in Hong Kong from now on, although they still have to fly via Hong Kong's airspace.
"The non-stop flight reduced our flying cost by one fourth," Kuoliang Tung, chief representative of China Airlines' Shanghai office, told Xinhua reporters after the touchdown.
"It is a good start, but we still anticipate a shorter route between the two destinations without passing Hong Kong, which will reduce the flying time to just one and a half hours," said the captain with the Boeing 747.
The cargo flight was a result of the negotiations held a month ago between civil aviation associations of both sides.
Under the agreement reached on June 14, air carriers across the Strait will be allowed to transport equipment used by Taiwan-funded plants in Chinese mainland.
The agreement also approved three more chartered passenger flight programs during traditional Chinese festivals in addition to the Spring Festival flight, which was launched in 2003.
"What we are expecting is the regular cargo and passenger flights, which will greatly benefit businessmen and improve peoples' communications across the Strait," said Chen.
Direct links have been cut for over 50 years across the Strait, while direct air links have become an urgent issue facing the cross-Strait exchanges with the development of economic and trade relations between the two sides.
The mainland has taken great efforts to push forward two-way and comprehensive "three direct links" in mail, transport and trade across the Strait, calling on Taiwan authorities to give up political concerns over the issue.
"It is in favor of the fundamental interests of Chinese compatriots living on the two banks to develop cross-strait economic ties with great efforts and realize direct links of mail, trade and transport services across the strait as early as possible, " Jia Qinglin, chairman of the National Committee of the Chinese People's Political Consultative Conference (CPPCC), told a Taiwan delegation to study economic and trade issues on the mainland on Wednesday.