Four more chartered cargo flights have been booked from Taiwan direct to the Chinese mainland after the first such flight landed at Shanghai early on Thursday, a Taiwan airline has announced.

The flights are scheduled to touch down in Shanghai on July 25, July 30, August 8 and August 10, said a source with the Shanghai office of the China Airlines, Taiwan's largest air carrier.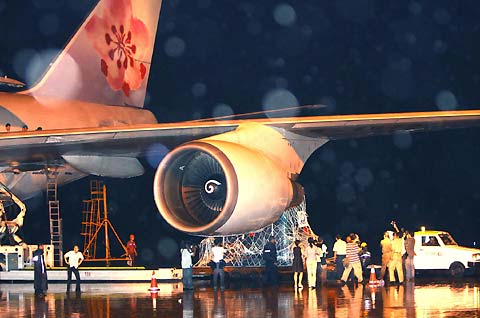 Airport workers unload cargo from the plane.Taiwan's first non-stop cargo charter flight lands at Shanghai's Pudong International Airport early Thursday morning. Flight CI 6901 of Taiwan-based China Airlines took off from Taoyuan Airport in Taipei at 10 pm, carrying Taiwan Semiconductor Manufacturing Company equipment. [Xinhua]

They will carry a total of 400 tons of manufacturing equipment for Taiwan Semiconductor Manufacturing Co. Ltd (TSMC) for its new eight-inch chip plant in Shanghai.

A Boeing 747-400 from Taiwan landed at Shanghai Pudong International Airport at 00:33 a.m. Thursday after a journey of two hours and 13 minutes, bringing 61 tons of equipment for TSMC, and making history as the first direct chartered cargo flight since 1949.

"The non-stop flight reduced our costs by a quarter," Kuoliang Tung, chief representative of China Airlines' Shanghai office, told Xinhua.

The aircraft departed Taipei at around 22:20 p.m. Wednesday, and set off on the return leg at 3:20 a.m. Thursday.

The next four flights will operate the same departure times.

The flight was the result of the negotiations held a month ago between civil aviation associations on both sides of the Taiwan Straits.

Under an agreement reached on June 14, carriers will be allowed to transport equipment used by Taiwan-funded plants on the mainland.

The agreement also approved three more chartered passenger flight programs during traditional Chinese festivals in addition to the Spring Festival flights launched in 2003.

Another source said the first chartered passenger flight for the traditional Mid-Autumn Festival could be launched in late September or early October, and air carriers on both sides would submit applications to the authorities in mid-August.

"We are expecting regular cargo and passenger flights, which will greatly benefit usiness people and improve communications across the straits," said Chen Luyi, vice president of the Shanghai-based Taiwanese Business Association.

Direct links have become a pressing issue in cross-Straits exchanges with the development of economic and trade relations between the two sides.

The mainland has been pushing for the two-way "three direct links" in mail, transport and trade, and refuting political concerns of the Taiwan authorities over the issue.