Yesterday's meeting between Hu Jintao, general secretary of the Communist Party of China Central Committee, and Taiwan's Kuomintang Chairman Wu Poh-hsiung is the most significant event in cross-Straits relations so far this year.
It served not only to strengthen mutual trust between the two parties, but also added ballast to the momentum of cross-Straits economic and trade ties.
Since the election of Taiwan leader Ma Ying-jeou a year ago, the relationship has been enriched by the realization of direct shipping, flights, postal services, and two-way investment and travel across the Straits.
Now around 3,000 mainland tourists visit the island everyday, while over 70,000 Taiwan companies have invested on the mainland, creating 10 million jobs. More than 40 percent of Taiwan's external trade comprises exports to the mainland.
Wu came to Beijing amid the backdrop of this much- improved cross-Straits relations, not seen in the last six decades. It is natural for both sides to expect one more step forward for forging links to advance economic front cooperation.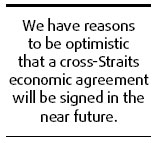 Progress is yet to be made toward the signing of a cross-Straits economic cooperation framework agreement (ECFA), which would significantly cut taxes on Taiwan's export of petrochemicals, automobiles, textiles and machinery to the mainland.
As the markets outside the island are shrinking in the global financial crisis, giving rise to various forms of protectionism, Taiwan - with 64 percent of its GDP coming from trade - needs the mainland market more than ever if it does not want to be marginalized and lose its competitive edge.
That may explain the subtle change in policy toward the mainland of Taiwan's opposition Democratic Progressive Party (DPP). Kaohsiung mayor Chen Chu visited the mainland just days before Wu came, making her the highest-ranking DPP official to have come on such a mission.
According to a survey conducted by the island's mainland affairs council last month, 70 percent of respondents support the signing of an ECFA to manage cross-Straits economic and trade links. Ma had earlier declared that his government will try to sign the ECFA no later than next year.
As the ECFA will cover matters pertaining only to economic cooperation, and not touch on political issues, there is enough room for both sides to find ways to maximize the benefits of cooperation.
The mainland's policy toward Taiwan has been consistent. The striving is to build mutual trust, keep aside disputes, seek consensus and shelve differences.
The favorable changes that have taken place in cross-Straits relations have exceeded expectations. We have reasons to be optimistic that a cross-Straits economic agreement will be signed in the near future to create a win-win situation for both sides.