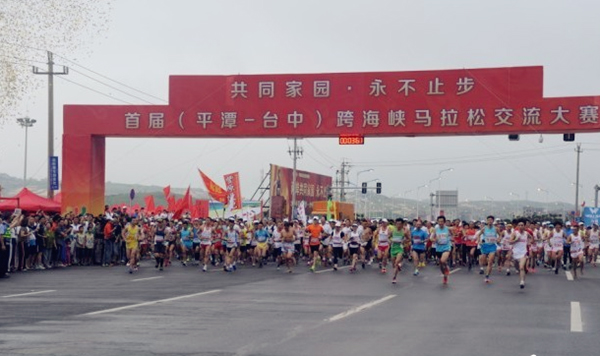 A total of 696 runners - 147 from Taiwan - participated in the Pingtan leg of the first Taiwan-Pingtan Marathon Invitational Tournament, which started at 6:00 am and ended at noon on June 2.
The event consisted of three categories which suited different levels of fitness, and 340 participants ran in the full-marathon (42.2 kilometers), 239 competed in the half-marathon (21.1 kilometers) and 117 were registered for the mini-marathon (5 kilometers).
China's first marathon that aimed to foster friendship between people from the Chinese mainland and Taiwan was jointly hosted by the Pingtan administrative committee and city council of Taichung. The 147 Taiwan runners finished the Taichung leg of the event on June 1, before boarding the Haixia, a high-speed passenger ferry that links Pingtan and Taiwan, and arriving in Pingtan.
The event started and ended in Haiyu Square at the Longfengtou Bathing Beach in Pingtan, and the route took participants around the Huangdao (Island Ring) Road.
The official website of the Pingtan government, pingtan.gov.cn, said the island will hold another cross-Strait marathon on June 22.
Edited by Chen Zhilin and Niva Whyman