LONDON - London said farewell to the Olympic Games on Sunday with a high-octane romp through British pop music, bringing the curtain down on more than two weeks of action at the end of which the United States topped the sporting world with 46 gold medals.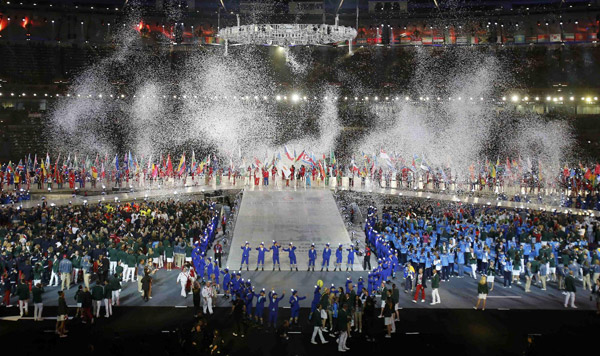 A general view of the march of the athletes during the closing ceremony of the London 2012 Olympic Games at the Olympic Stadium August 12, 2012. [Photo/Agencies]
There was another sellout crowd at the 80,000-capacity athletics stadium in East London for the final act of the Games, and another 300 million people were expected to tune in on television sets around the world.
The concert opened with a countdown followed by the chimes of Big Ben marking 9 pm (2000 GMT). The set included the London landmark, as well as replicas of the London Eye, Tower Bridge and St. Paul's Cathedral.
Actor Timothy Spall read from Shakespeare's "The Tempest" dressed as war-time Prime Minister Winston Churchill, and after a London "rush hour" featuring real cars and trucks wrapped in newspaper, Prince Harry entered to represent his grandmother Queen Elizabeth.
Later in the concert, athletes enter and the winner of the men's marathon is awarded his medal.
The ceremony then switches to an hour-long celebration of British pop of the last five decades featuring hits such as "Imagine", "Bohemian Rhapsody" and "Pinball Wizard".
The Spice Girls, George Michael and The Who are among the cast set to perform, and, after a section devoted to the 2016 Olympic hosts Rio de Janeiro there will be closing speeches and the Olympic Flame is extinguished.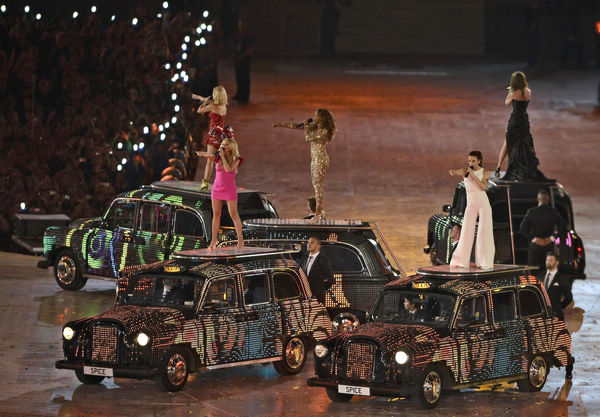 The Spice Girls perform during the closing ceremony of the London 2012 Olympic Games at the Olympic stadium August 12, 2012. [Photo/Agencies]
Lightning struck thrice
The stadium has seen some of the most spectacular moments of the Games, including Jamaican sprint king Usain Bolt defending the 100, 200 and 4x100 metres titles he won in such spectacular fashion in Beijing, the latter in a world-beating time.
British supporters will also cherish memories of the venue, where Somali-born runner Mo Farah won the 5,000 and 10,000 double to deafening roars and was celebrated as a symbol of the capital's multi-culturalism.
The host nation won 29 golds to take third place in the rankings, its best result for 104 years which helped lift the nation out of the gloom of an economic recession temporarily buried in the inside pages of the newspapers.
"I will say history has been written by many athletes. The Games were absolutely fabulous. London has absolutely refreshed the Games," International Olympic Committee President Jacques Rogge told reporters.
British Prime Minister David Cameron agreed, writing in a succinct message on Twitter: "Britain delivered. We showed the world what we're made of."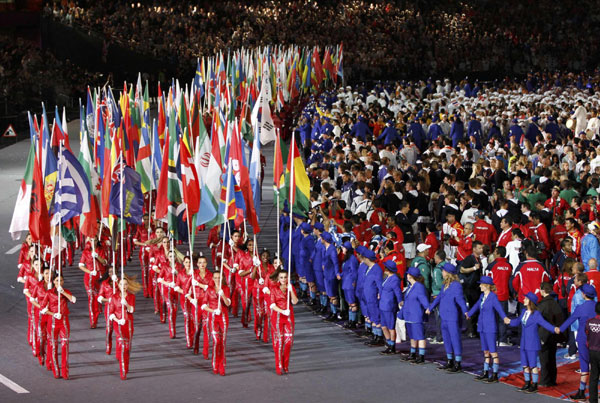 Flag bearers carry flags of countries represented into the closing ceremony of the London 2012 Olympic Games at the Olympic Stadium Aug 12, 2012. [Photo/Agencies]