Actions of workers saved hundreds of people at flooded expressway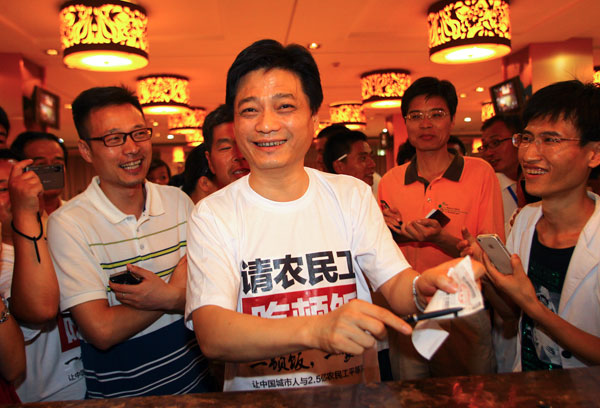 Picking up the tab: Cui Yongyuan, a famous anchorman from China Central Television, displays the restaurant bill after treating 154 migrant workers to dinner on Monday. The meal was to express gratitude to the workers for the bravery they displayed in rescuing about 200 people from torrential rain. [Photo/China Daily]
Cui Yongyuan, a famous anchorman from China Central Television, treated 154 migrant workers to dinner on Monday evening to show respect for their heroic behavior in rescuing about 200 people trapped in a torrential downpour.
All invited migrant workers, who work for a water treatment factory in the Fengtai district of Beijing, raced against time to transfer people stranded by floodwaters on an expressway when the heaviest rainfall in 61 years lashed Beijing on July 21.
More than 120 vehicles were submerged in a low-lying section of the Beijing-Hong Kong-Macao Expressway in Fengtai that night.
When several drivers escaped from their cars and rushed to a nearby factory for help, Du Jinrong, leader of a construction team, knocked on his workmates' dorm doors.
The factory staff gave out clothes, food and bottled water to all people rescued and allowed them to rest in two meeting rooms or in the dormitory, Du said.
"Some of the rescued wanted to give us money as a reward but we refused. We did not help for money," Du said.
More than 180 people were stranded on the roofs of three buses in the inundated section of the expressway when the rescue team, equipped with buoys, ropes and flashlights, reached the site around 9 pm.
He Xuezhong, who has been working in Beijing for more than 17 years, joined the rescue work with his wife and 20-year-old son.
"I did not worry about my son's safety in that urgent moment although I knew that he can't swim," He said. "He can cope with the help of ropes and buoys."
He Ming, his son, also took part in the rescue at about 9 pm on July 21 and saved a 9-year-old boy at 3 am who was grasping an iron fence so the current wouldn't sweep him away.
"I heard the boy saying 'I want my mom' but after I took him to a safe place, my workmate immediately took him to change his clothes, so I didn't know whether he found his mother until yesterday," he said.
About 60 people who were rescued visited the migrant workers on Sunday to express their gratitude and He Ming said he saw the boy and his mother there.
After a brief opening speech, Cui, the anchor, asked everyone at the dining hall for a minute of silence for people who died in the rainstorm.
Li Chuannan, a 23-year-old from Southwest China's Sichuan province, had to restrain himself when he saw spicy fish, an authentic Sichuan dish.
"The doctor told me that I should stay away from spicy food before my wound recovered, that's killing me," the young man said.
Li's right foot was scratched by iron when he rushed back and forth to save people trapped in the water.
"I couldn't believe it when I heard a few days ago that Cui Yongyuan was going to treat us to a dinner," Li said. "I often saw him on television, but never expected that I could meet him in real life, I like him because he is humorous and eloquent."
Cui responded to an online campaign at Sohu Weibo, a popular micro-blogging site, to take them out for dinner after he read about the life-saving stories.
The campaign, launched by three scholars in May, called for urban residents to treat migrant workers to dinner as a way to promote equality among different social groups and eliminate discrimination against manual workers.
Cui handed a pennant to Li, who was chosen as the representative of the migrant workers participating in the rescue work, with words saying "You offered a hand in an emergency, I drink a toast to show my respect".
Cui then toasted all the migrant workers who sat at 18 tables. He paid 14,400 yuan ($2,250) for the dinner, which was held in the Jingxi Nangong Hotel, a restaurant in Fengtai, 10 minutes drive from the workers' residence.
Yang Tuan, a social policy expert from the Chinese Academy of Social Sciences and another initiator of the campaign, attended the dinner party.
"The rainstorm removed the misunderstanding and the gap among people, and you (migrant workers) treated those stranded people as brothers and sisters," she said.
In addition to the migrant workers' heroism, Beijing residents have also been moved by the bravery of two young firefighters in the rescue operations following the heavy rain.
Shi Bingbing and Wu Tian, both 20, together with their two teammates, were sent to the section of the Beijing-Hong Kong-Macao Expressway where a 900-meter section was submerged on July 22.
They were ordered to dive into the water to help rescuers get a whole picture of how many cars were inundated and if there were any people trapped.
"The situation there was very complicated, deep water and floating cars, you couldn't believe that you were at an expressway," said Shi, a deputy commander from the fire squad in Xiwengzhuang township.
The water was 6 meters at the deepest point and the average depth was 4 meters.
"It was too cold and dark to see clearly, so we had to fish for the vehicles one by one," Shi said, adding that they bumped against them occasionally.
After one hour, the other two teammates asked to dive in turn, but they refused.
"They are unfamiliar with the situation, and we don't have enough time (to take the shift)," he said, "We started diving at 3 pm and were asked to finish the search mission before night, leaving us only four hours."
The two finished the mission on schedule, reporting that 127 vehicles were inundated. Shi got eczema because the water was not clean and Wu got a fever.
Shi said he didn't tell his family after the mission though he lay in bed for days. "I don't want to make them worry about me".
Contact the writers at hedan@chinadaily.com.cn and zhengjinran@chinadaily.com.cn