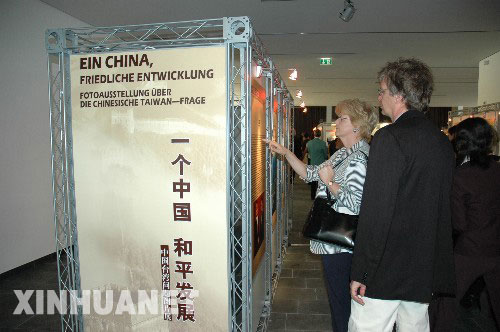 Overseas Chinese in Germany hold a photo exhibition focusing on China's Taiwan question on Saturday, May 19, 2007. [Photo: Xinhua]
Overseas Chinese in Germany held Saturday a photo show here aimed at promoting the cause of China's peaceful reunification.
The exhibition, featuring Taiwan's geography and history in detail, is designed to illustrate that the island is an inseparable part of China and every effort should be made to push for China's peaceful reunification, the organizers said.
Ye Haijie, chairman of the Council of Overseas Chinese in Germany for the Promotion of China's Peaceful Reunification, said in a speech that China's reunification is of fundamental interest to Chinese all over the world.
The show also explains at length how the Taiwan issue has developed and how the Chinese government has been trying to solve the issue.
Wang Fuqing, deputy director of the Taiwan Affairs Office of China's State Council, said the exhibition demonstrated that China's peaceful reunification is the common wish of all Chinese people, both at home and abroad.
German lawmaker Johannes Andreas Pflug, who attended the show, said the German government and parliament will always stick to the "one China" policy and support China's peaceful reunification.
Pflug said he hoped that the exhibition will help the German people better understand the Taiwan issue.