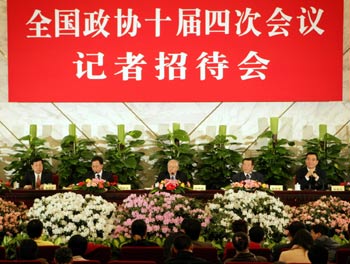 A press conference on the 11th Five-Year Plan for National Economic and Social Development is held by the Tenth National Committee of the Chinese People's Political Consultative Conference (CPPCC) in Beijing March 7, 2006. Wu Jinglian, Lin Yifu, Qiu Xiaohua, Zhao Zhongxian and Lu Zhiqiang, members of the CPPCC National Committee were invited to the press conference. [Xinhua Photo]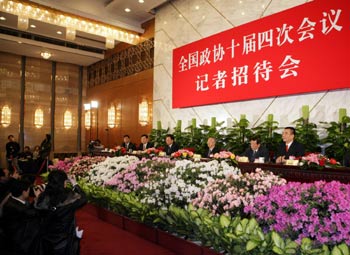 A press conference on the 11th Five-Year Plan for National Economic and Social Development is held by the Tenth National Committee of the Chinese People's Political Consultative Conference (CPPCC) in Beijing March 7, 2006. Wu Jinglian, Lin Yifu, Qiu Xiaohua, Zhao Zhongxian and Lu Zhiqiang, members of the CPPCC National Committee were invited to the press conference. [Xinhua Photo]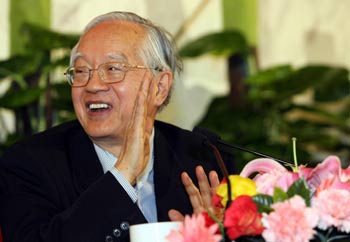 Renowned economist Wu Jinglian, also member of the Tenth National Committee of the Chinese People's Political Consultative Conference (CPPCC), gestures during a press conference on the 11th Five-Year Plan for National Economic and Social Development held by the CPPCC National Committee in Beijing March 7, 2006. [Xinhua Photo]

Renowned economist Lin Yifu, also member of the Tenth National Committee of the Chinese People's Political Consultative Conference (CPPCC), addresses the media during a press conference on the 11th Five-Year Plan for National Economic and Social Development held by the CPPCC National Committee in Beijing March 7, 2006. [Xinhua Photo]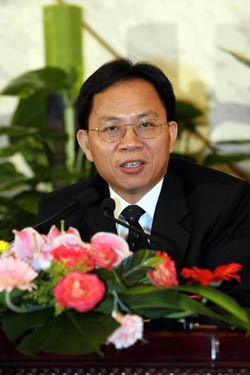 Qiu Xiaohua, deputy director of the National Bureau of Statistics and member of the Tenth National Committee of the Chinese People's Political Consultative Conference (CPPCC), addresses the media during a press conference on the 11th Five-Year Plan for National Economic and Social Development held by the CPPCC National Committee in Beijing March 7, 2006. [Xinhua Photo]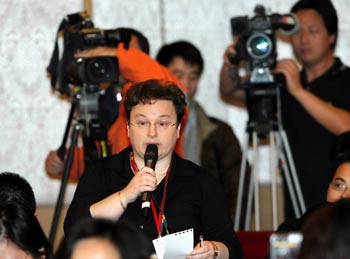 A foreign journalist raises questions during a press conference on the 11th Five-Year Plan for National Economic and Social Development held by the Tenth National Committee of the Chinese People's Political Consultative Conference (CPPCC) in Beijing March 7, 2006. [Xinhua Photo]
Four obstacles hinder shift of economic growth mode in China
There are four obstacles hindering the smooth shift of China's economic growth mode, a leading economist of the country said in Beijing on Tuesday.
"China has always given top priority to the shift of its economic growth mode, but has so far been unable to attain this goal," said Wu Jinglian, a Standing Committee member of the 10th National Committee of the Chinese People's Political Consultative Conference (CPPCC), the country's top advisory body which is holding its annual full session in Beijing.
Several leading experts and senior officials who are also members of the CPPCC National Committee were invited to a press conference on Tuesday morning held on the sidelines of the ongoing CPPCC session.
According to Wu, the four obstacles are the excessive power of governments at all levels in distributing resources, the pursuit of "political achievements" by some officials, the pressure of taxation and financial revenues on industrial output, and the distorted pricing system for key means of production and resources.
In recent years, Chinese leaders have called on the nation to adopt a "scientific concept of development" by shifting the country's economic growth mode from one based on high resource consumption and heavy pollution to a resource-saving and environment-friendly one. Officials across the country were ordered to give up a "blind pursuit of GDP (gross domestic product)" and embrace a "green GDP" which highlights a sustainable and more balanced growth.
"But under the pressure from the four above-mentioned factors, many officials are still following the path of sacrificing resources in their control for high-speed economic growth," said Wu at the press conference.