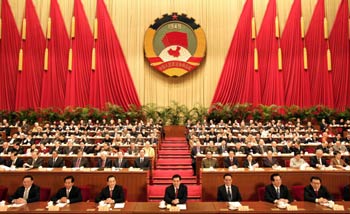 Top Chinese leaders Hu Jintao (C Front), Wu Bangguo (3rd R Front), Wen Jiabao (3rd L Front), Zeng Qinghong (2nd R Front), Wu Guanzheng (2nd L Front), Li Changchun (1st R Front) and Luo Gan (1st L Front) attend the closing meeting of the Fourth Session of the Tenth National Committee of the Chinese People's Political Consultative Conference (CPPCC) held at the Great Hall of the People in Beijing March 13, 2006. [Xinhua Photo]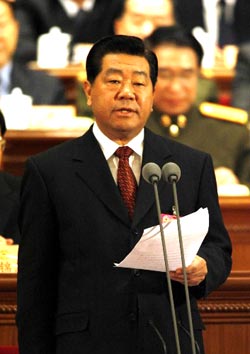 Jia Qinglin, chairman of the National Committee of the Chinese People's Political Consultative Conference (CPPCC), presides over the closing meeting of the Fourth Session of the Tenth CPPCC National Committee at the Great Hall of the People in Beijing March 13, 2006. [Xinhua Photo]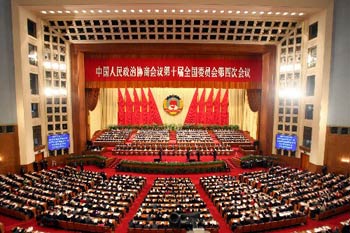 The Fourth Session of the Tenth National Committee of the Chinese People's Political Consultative Conference (CPPCC) hold the closing meeting at the Great Hall of the People in Beijing March 13, 2006. [Xinhua Photo]
China's top advisory body held the closing meeting of its annual session on Monday morning, and apolitical resolution which urges nationwide efforts to safeguard state sovereignty and territorial integrity was adopted.
President Hu Jintao and other top Chinese leaders including Wu Bangguo and Wen Jiabao were present at the closing meeting presided over by Jia Qinglin, chairman of the CPPCC National Committee.
The annual full session of the top advisory body opened on March 3 with the participation of more than 2,000 members.
The CPPCC is a patriotic united front organization of the Chinese people, serving as a key mechanism for multi-party cooperation and political consultation under the leadership of the Communist Party of China (CPC), and a major manifestation of socialist democracy.
CPPCC session adopts political resolution calling for resolute fight against "Taiwan independence"
China's top advisory body concluded its annual session Monday morning, after adopting apolitical resolution which calls on the nation to "resolutely oppose and check 'Taiwan independence' secessionist forces and activities."
The Fourth Session of the 10th National Committee of the Chinese People's Political Consultative Conference, attended by more than 2,000 advisors from across the country, opened on March 3.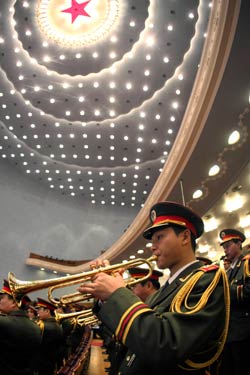 The military band play Chinese national anthem during the closing meeting of the Fourth Session of the Tenth National Committee of the Chinese People's Political Consultative Conference (CPPCC) at the Great Hall of the People in Beijing March 13, 2006. [Xinhua Photo]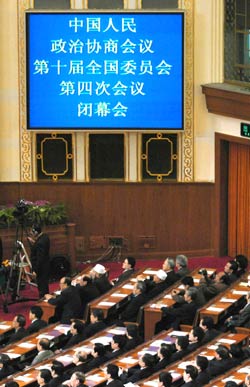 The Fourth Session of the Tenth National Committee of the Chinese People's Political Consultative Conference (CPPCC) hold the closing meeting at the Great Hall of the People in Beijing March 13, 2006. [Xinhua Photo]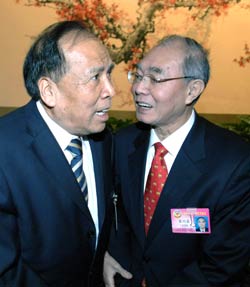 Xiao Zhuoji (R) and Chen Kaizhi, members of the Tenth National Committee of the Chinese People's Political Consultative Conference (CPPCC) talk to each other prior to the meeting at the Great Hall of the People in Beijing March 13, 2006. [Xinhua Photo]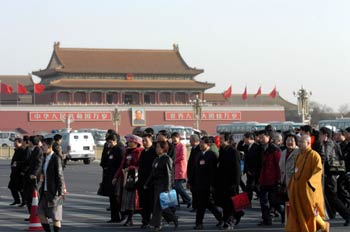 Members of the Tenth National Committee of the Chinese People's Political Consultative Conference (CPPCC) walk to the Great Hall of the People in Beijing March 13, 2006. [Xinhua Photo]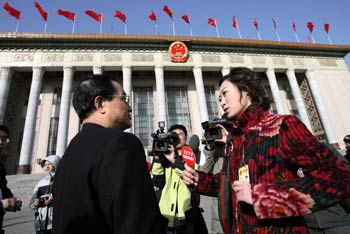 A member of the Tenth National Committee of the Chinese People's Political Consultative Conference (CPPCC) speaks to a reporter outside the Great Hall of the People in Beijing March 13, 2006. [Xinhua Photo]