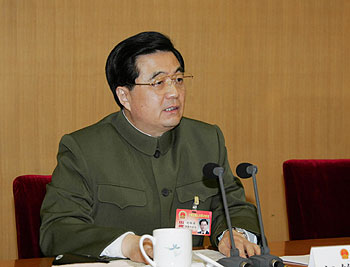 Chinese President Hu Jintao delivers a speech during a meeting of the delegation of the Chinese People's Liberation Army (PLA) to the Fourth Session of the Tenth National People's Congress (NPC), in Beijing, capital of China, March 11, 2006. Hu attended the meeting of the PLA delegation on March 11. [Xinhua Photo]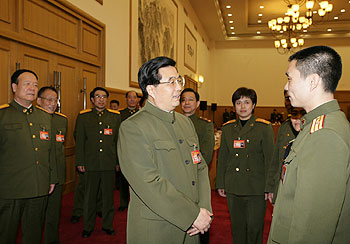 Chinese President Hu Jintao (L Front) talks with a member of the delegation of the Chinese People's Liberation Army (PLA) to the Fourth Session of the Tenth National People's Congress (NPC), in Beijing, capital of China, March 11, 2006. Hu attended a meeting of the PLA delegation on March 11. [Xinhua Photo]
Chinese President Hu Jintao on Saturday called on the Chinese army to enhance national defense and step up army building to safeguard national sovereignty, unification, territorial integrity and security.
"We should strive to improve the capability of the armed forces to deal with crisis, maintain peace, contain wars and win victory in possible wars," said Hu when he joined in the panel discussion of the delegation of the People's Liberation Army (PLA) to the Fourth Session of the Tenth National People's Congress (NPC) in Beijing Saturday afternoon.
Hu is also general secretary of the Central Committee of the Communist Party of China and chairman of the Central Military Commission.
After hearing the PLA deputies' views, Hu said the next five years are crucial to China's drive for building a comparatively prosperous society in an all-round way. It is also "an important period" for the modernization of national defense and army building, he said.
"We must give top priority to defending national sovereignty and security, and get ready for military struggles," said the president.
"We must follow the scientific concept on sustainable development to strengthen national defense and army building," Hu stressed.
Hu also urged efforts to promote development in the fields of economy, science and technology, education and personnel training for both military and civilian purposes, and earn rich resources and strong support from the country's economic and social development for national defense and army building.
The president called for acceleration of coordinated development of military and political work, logistics and equipment in line with the principle of revolutionization, modernization, and regularization.
Science and technology is a productive force of primary importance, and is also a powerful driving force pushing forward the national defense and army building, Hu stressed.
To hit the goal of building an innovation-oriented country, efforts should be intensified to equip the army with information technology, improve the combat readiness based on technological innovation, and upgrade the army's organizational and administrative mechanisms.
The president underlined the people's role in enhancing national defense capacity, calling for a reinforced unity between the army and the people and the establishment of a rapid and effective mobilizing mechanism for national defense.
Hu, together with other leaders of the Central Military Commission, had a meeting with some PLA deputies from technological and grassroots units.